KRISTYAN ROSE GILMORE, ESQ.
ATTORNEY - EDUCATOR - ADVISOR
Helping clients thrive in their professional lives.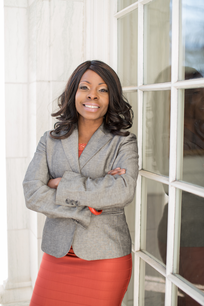 Kristyan Rose Gilmore is the managing member of Tobe Free, LLC, a consulting firm that provides legal, training, and development services to solopreneurs and small sized businesses looking to scale. She is also Vice President of Breakthrough Outreach Ministries a family-owned tax exempt organization focused on economic and criminal justice.
An attorney from Houston, Texas, Kristyan attended the University of Oklahoma (BA, Sociology, '01), Howard University (Law '08), and Regent University (MA, Government '12). Her studies led her to Oxford University and she is a World Schools debate team mentor. She offers unique insight from her experiences in ministry, law, politics, and athletics to help others accomplish their goals in an inclusive and supportive environment.
Kristyan serves on the board of the Howard Law School Alumni Club of NY, Take Care of Harlem, and is an Apollo Theater Young Patron. An A. Leon Higginbotham, Jr. fellow of the American Arbitration Association, she has a niche for alternative dispute resolution to protect common interests and relationships. Motivated by immovable faith and a passion for culture, Kristyan's scholarship focuses on increasing self awareness to increase productivity.
Her reputation as a holistic adviser and dynamic advocate has created a buzz in the marketplace. She writes and speaks on compliance & ethics best practices, corporate social responsibility, faith-based civic engagement, and legacy protection. Her most popular speaking topic, How to Talk About Politics without Losing People, comprehensively engages every learning style reaching a diverse audience.
An avid supporter of the arts, Kristyan has contributed to two gospel albums and will release her book, 39, in the fall of 2020. She is also working on a screenplay- a science fiction love story set in Obama era Washington, D.C.